These might be good for the league-
Recoded Team Strategy System
You spoke and we listened: We agreed that setting your team's in-game strategy was a tedious task, so we've 
completely redesigned that part of the game
. Now you can quickly set your preferred strategies and move on to more important matters. Beware, though: If you play GM-only, you'll find that some managers won't let you dictate certain strategies.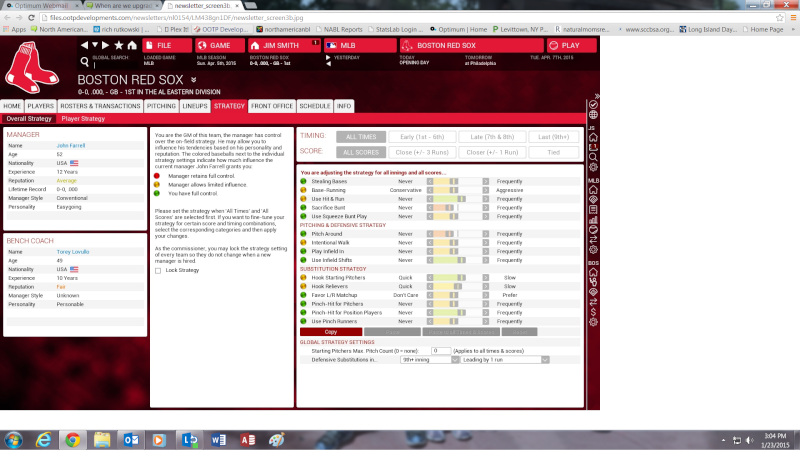 Improved Team Finances and Reporting
We have redesigned large chunks of the team finance system, including new season ticket sales, a team finances screen based on widgets, a new accounting screen, and much more. You'll be better at the money-related part of your job than ever before. On top of that, we have recoded and improved the entire AI related to finances, resulting inmore realistic player contracts and negotiations and more stable long-term team finances.
Better Playoff Coverage
The race for playoff berths is the most exciting part of every baseball season, so we added a new Pennant Chase screen that displays the strength of the remaining schedule and the chance for each team to make the playoffs. We also improved the related news coverage. Who will win it all?
Much More
Of course, that's not all. Every year we offer many smaller features, and OOTP 16 is no exception. It includes:


New play modes (Manager only, GM only, and GM + Manager), so you can decide exactly how you'd like to run your team


An improved simulation engine that incorporates the latest research and trends, such as infield shifts and pitcher usage


Rainouts with automatic rescheduling, adding the realism that comes with rain-shortened and cancelled games. Is your bullpen strong enough to handle those late-season double-headers?


Better in-game sound


An enhanced interface, such as a player info pop-up when resting the mouse pointer over a button which links to a player, or automatic syncing between lineups and depth charts when making changes to either of them.


A great new Find-A-Player feature: Define certain criteria (ratings, stats, salary etc.) and find exactly the player you were looking for


Recoded All-Star Game features with real voting (including online league support)


Realistic OOTP Hall of Fame selection process, including simulated voting andnew stats like JAWS, HoF Standards, Black & Grey Ink Tests


More player awards, for example Most Valuable Player, Playoff Series MVPs, best hitters by position and Reliever of the Year


Better playoff history tracking, including career playoff stats for all real players in the database and playoff leaderboards


Alternate currencies (Euro, Pounds Sterling, Yen, etc.)


The option to define background pictures for teams and leagues


Much more


This might cause us some headaches depending on what can be turned off -
New Team Owner Goals
Real-life GMs may not want smarter owners, but we think you'll appreciate your new team owner, who won't just tell you to go out there and win as many games as you can. Now he'll give you short- and long-term goals, which may include: winning the World Series within X seasons; fixing a certain weakness on your roster; extending the contract of a star player; and much more. Your ability to meet those goals not only decides if you'll be fired but also determines if your contract will be extended at a higher salary, which is another new feature this year.